Show Ode & Titjean
Ode and Titjean in concert on Saturday, May 02nd, 2015 at 9:00 pm in Cosy Montparnasse (Paris) !
1st part : ode: varied titles going of Sparrow to Adèle via(including) Scorpios, Isabelle Boulay, Starmania....
Https: // www.facebook.com / OdeOfficiel63
2nd part : Titjean sings Renaud: some of his biggest tubes and rediscovery others of his titles of yesterday in today.
Https: // www.facebook.com / TitJean1
Will also concoct you to us of beautiful surprises !
By hoping to see you numerous!!
For the artists: in the hat!
Cosy Montparnasse is a multifaceted place where we can have a drink, have dinner with a programming heterogeneous daily scènique.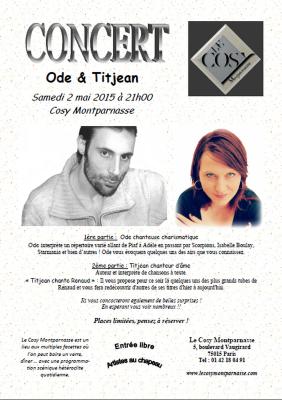 You can reserve from now on:
Cosy Montparnasse
5, boulevard Vaugirard
75015 Paris
01 42 18 04 91